The ASA & ESAIC Guidelines Recommend Quantitative Neuromuscular Monitors
The only clinically-validated electromyography (EMG) train of four monitor, studies demonstrate that TwitchView improves management of neuromuscular blockade, optimizes antagonism and can eliminate residual neuromuscular blockade.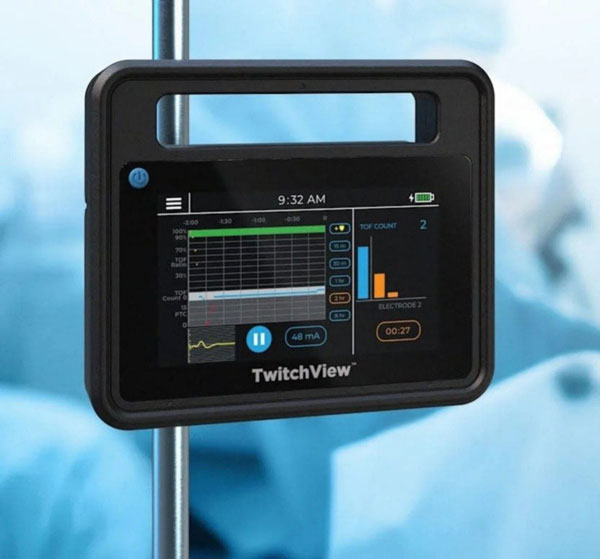 TwitchView Quantitative Monitoring for Neuromuscular Blockade
Proprietary hardware and software algorithms enable best-in-class performance, while simple setup and reliable operation offer an unrivaled user experience.
1
Adult and pediatric electrodes can be rapidly placed on either the hand or foot.
2
Electromyography (EMG) based measurements require no motion and can be utilized on tucked arms.
3
One button startup and AutoPTCTM enables continuous monitoring across all levels of neuromuscular blockade (TOF Ratio, TOF Count, Post-tetanic Count).
4
Integration with electronic medical records (EMRs) eliminates manual charting.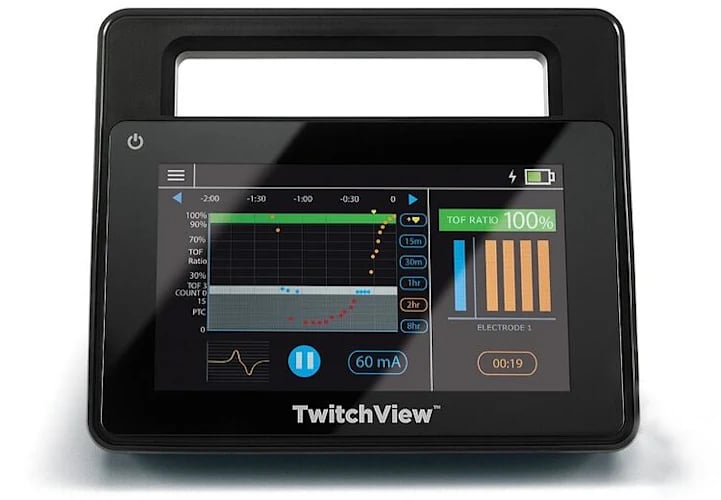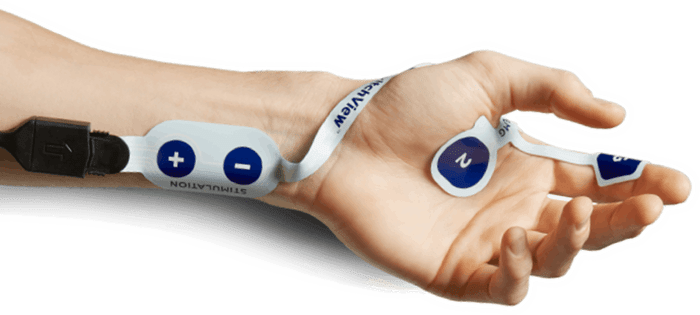 One quantitative neuromuscular monitor for all patient populations. Did you know the TwitchView electrode is available in

adult, pediatric

and

infant

sizes?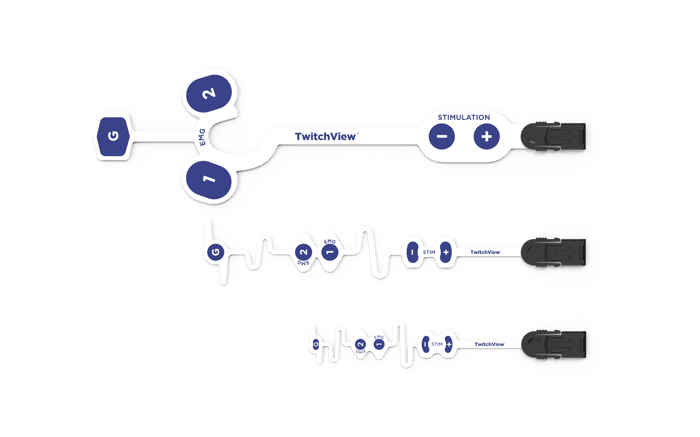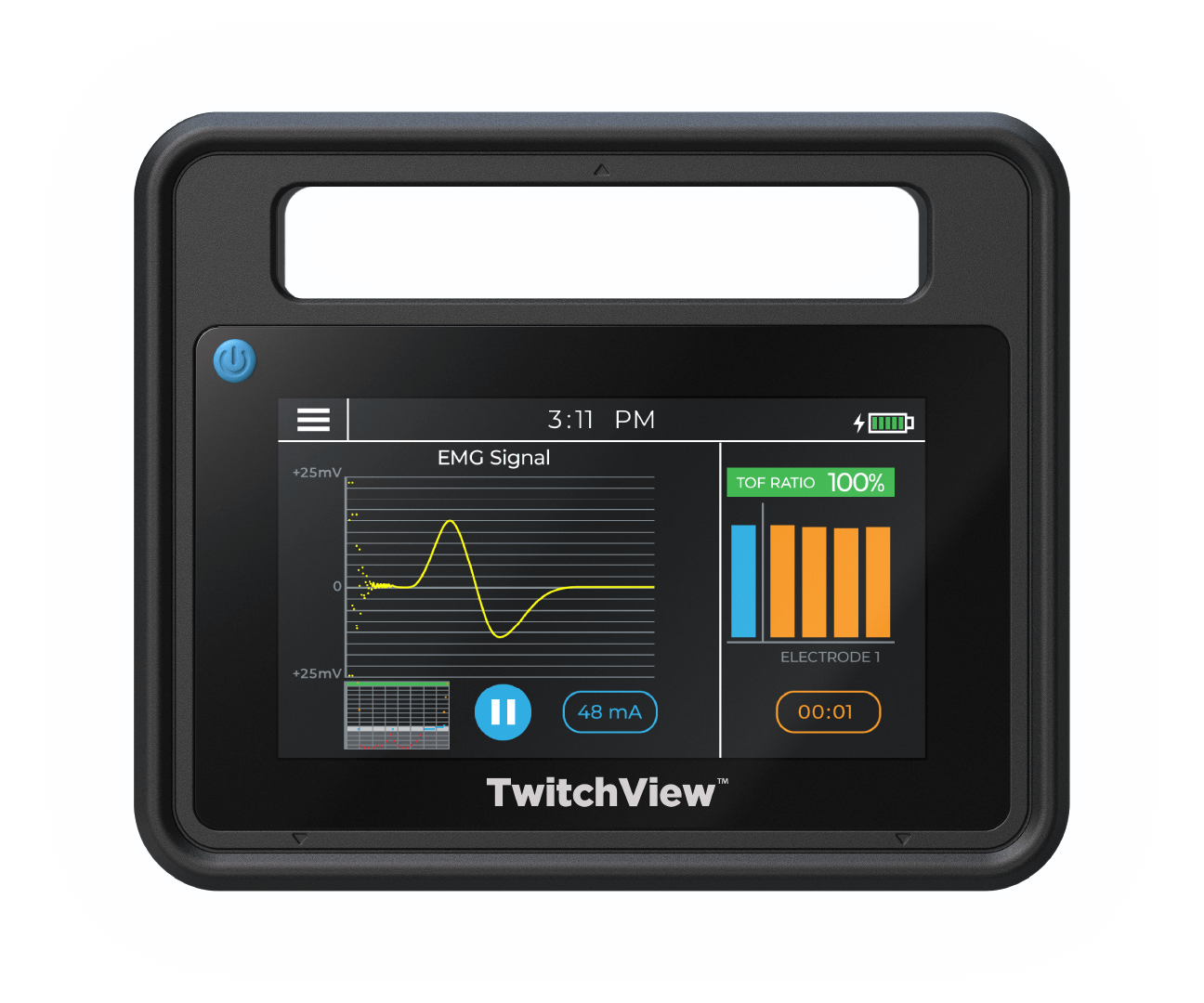 Your Implementation Partner for Quantitative

Neuromuscular

Monitoring
We understand that new technology adoption requires planning, collaboration and education. Blink DC has created a suite of tools to facilitate success, and we will partner with your institution to ensure an effective TwitchView implementation and ongoing use.
Interested in adding quantitative train of four to your practice?
Fill out the form, and we will contact you to discuss a plan that best supports your facility.
"Using TwitchView was like someone turning on the lights. We've been practicing in the dark" Attending Anesthesiologist, University of Washington
"No more digging under the drapes to feel for twitches. I just look at the monitor and have everything I need!" CRNA , Colorado Community Hospital
TwitchView Monitor Validation
Beyond usability, TwitchView is the ONLY quantitative neuromuscular monitor clinically validated as accurate and interchangeable with gold-standard mechanomyography (MMG). When clinical decisions are based on monitor data—accuracy matters. TwitchView has been validated in multiple independent studies and proven accurate from deep blockade to recovery.
Access to validated accuracy supports optimal management of neuromuscular blockade and ensures adequate recovery is achieved prior to extubation. The benefits of TwitchView utilization are published and Blink DC will partner with you to create a custom implementation plan to achieve your department's goals.
"Reversal with Sugammadex was deemed unnecessary in all cases managed clinically with the TwitchView Train of Four monitor.1""
"Using TwitchView, we eliminated the occurrence of residual neuromuscular blockade and utilized Sugammadex in less than 50% of patients2"
"The device is great. It is making a real change in how we approach management of NM blockade." Attending Anesthesiologist, Philadelphia Academic Institution
Optimize NMB Drug Management.
Reduce NMB Drug Spending.
In addition to real-time measurements, TwitchView displays the patient's level of blockade and recovery on a trend plot. The trend plot enables clinicians to visualize how neuromuscular blocking agents affect each patient differently, often leading to less overall drug use and more reversal options. Most importantly, adequacy of reversal is confirmed by a TOF ratio > 90% prior to extubation, which eliminates the possibility of residual neuromuscular blockade (RNMB) and supports conservative reversal choices.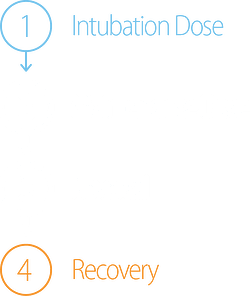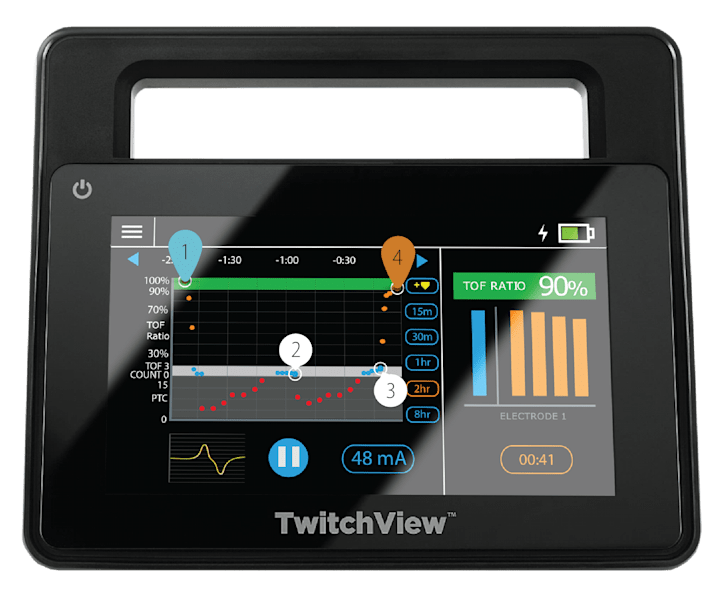 Take the Steps to Eliminate Residual Neuromuscular Blockade

Establish consistent use of TwitchView and track progress with your electronic medical record (EMR)

Optimize management of neuromuscular blockade and confirm patient recovery before tracheal extubation

P
revent residual neuromuscular blockade (RNMB), critical respiratory events (CREs) and the associated costs often at hospital's expense
An Academic Medical Center Implements TwitchView
"The maximum potential cost savings for Temple University Hospital derived from eliminating post operative pulmonary complications associated with residual neuromuscular blockade would be roughly $7 million dollars annually.
This compares very favorably with an annual cost of implementing universal [TwitchView] quantitative train of four monitoring of $162,000."1
"This is a real opportunity for our specialty."
-Dr. Gordon Morewood, Chair and Professor of Anesthesiology at Temple University
Leading hospitals are already benefitting from TwitchView utilization. We understand that new technology adoption requires planning, collaboration and education. Blink DC has created a suite of tools to facilitate success, and we will partner with your institution to ensure an effective TwitchView implementation and ongoing use.
HAVE QUESTIONS?
WE ARE READY TO ANSWER.
Submit a request for more information and a representative will contact you shortly.
Contact us TODAY!
References: 1. Ly N, Edwards LA, Morewood G. The influence of EMG-based quantitative TOF monitoring on clinical decision making. Paper presented at: Postgraduate Assembly in Anesthesiology; December 13-17, 2019; New York, NY. 2. Thilen SR, Sherpa J, Treggiari MM, James A, Cain KC, Bhananker SM. Best Management of Muscle Relaxation with Rocuronium Using Objective Monitoring and Reversal with Neostigmine or Sugammadex. Oral presentation Feb 28, 2020, Whistler Anesthesia Summit, Whistler, BC, Canada. 3. Bowdle A, Bussey L, Michaelsen K. Counting train-of-four twitch response: comparison of palpation to mechanomyography, acceleromyography, and electromyography. Br J Anaesth. 2020;124(6):712-717. 4. Bowdle A, Bussey L, Michaelsen K, et al. A comparison of a prototype electromyograph vs. a mechanomyograph and an acceleromygraph for assessment of neuromuscular blockade. Anesthesia. 2020;75(2):187-195.